411 West Italian Café is located on the West End of Franklin Street in the heart of Chapel Hill, NC - home of the University of North Carolina, and a short drive from the Research Triangle Park and Raleigh-Durham regional airport. Opened in 1990, 411's menu is inspired by the flavors of Italy and the Mediterranean, with a healthy California twist. We make our own fresh pasta on premise, and our delicious thin crust pizzas are baked in a wood-fired oven imported from Italy. The menu features traditional Italian favorites, but we are best known for our creative pasta dishes, fresh seafood and steaks, and seasonal specials inspired by the bounty of our local farmers. Our fantastic desserts are all made in-house, and our wine list is extensive and affordable. 411 West is a member of the Chapel Hill Restaurant Group, a Green Plus certified business, and recipient of the Sustainable Business of the Year award from the Foundation for a Sustainable Community.
Awards
The readers of the Independent, a local publication in Raleigh, Durham, Chapel Hill and the surrounding area, have named 411 West "Best Italian Restaurant in the Triangle" 8 of the last 10 years – 2007, 2008, 2010, 2011, 2013, 2014, 2016, 2017.
Chapel Hill Magazine readers have voted 411 West "Best Italian in Chapel Hill" every year since the inception of their awards seven years ago — 2012, 2013, 2014, 2015, 2016, 2017, 2018.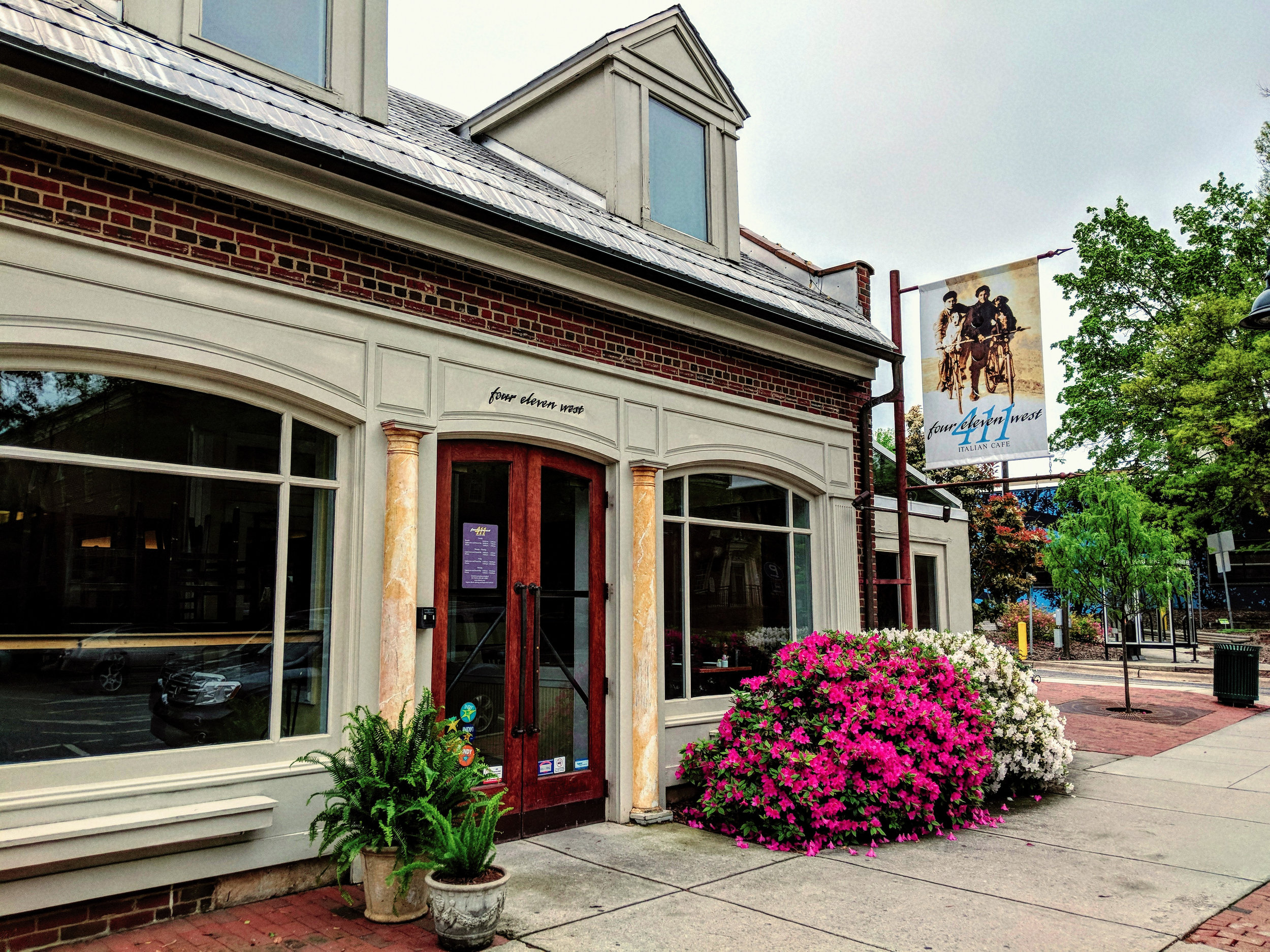 Voted 2018 Best Italian Restaurant in Chapel Hill by Chapel Hill Magazine
As with the entire Chapel Hill Restaurant Group, 411 West strives to provide the value of quality service and outstanding food at an affordable price. We are committed to creating the best possible dining experience from our first contact with the guest through the end of the meal. We have also chosen to accomplish our goals sustainably, and we are proud of our efforts to become a leader in our industry. The Chapel Hill Restaurant Group was named "Sustainable Business of the Year" in 2007. All our restaurants use compostable to go containers, bags, bar stirrers, etc in an effort to protect the environment. 411 West, and the other restaurants in the group participate in a food recycling program and have reduced their solid waste by 85%. Because of these efforts to help our local environment, Blair Pollock, Solid Waste Manager of the Orange County Landfill, called the Group "the Rock Stars of Recycling in Orange County". Mez Contemporary Mexican,was the first Green Plus certified business in the United States, and was the first LEED (Leadership in Energy and Environmental Design)-designed restaurant in North Carolina.The Group is also a two time recipient of the "Large Business of the Year" award from the Chapel Hill Carrboro/Chamber of Commerce.
Tommy O'Connell - GM / Partner in 411 West, Lula's Restaurant and Squid's Restaurant
Tommy started with our company in 1986 as a dish washer and server at Spanky's Restaurant while in his last year at UNC. He helped open 411 in 1990 and became a partner in 1998. He is a certified sommelier and selects our wine offerings. He is active on town boards and lives in Downtown Chapel Hill with his wife, son, daughter and two labs.
TRAE SMITH - MANAGER
Trae began with us in 1999. He attended NCSU and is a certified mixologist. He curates our beer mixed beverage program and oversees the training of our bar and floor staff.
JON DOWSE - EXECUTIVE CHEF
Jon was named Executive Chef at 411 West in April of 2012 after working with us since 1997. He is a natural leader with a passion for food and has earned fierce loyalty from our veteran staff. When he is not contributing his talent and expertise to your next amazing meal at 411 West, Jonathan enjoys spending time with his family on their beautiful Chatham County farm.
MARK TACHMAN - PASTRY CHEF
Mark has been a pastry chef for over thirty years, beginning in the San Francisco Bay Area, then South Carolina, and eventually here in the the Triangle. He helped open 411 West in Chapel Hill in 1990, Outside of his 411 duties, Mark has taught baking classes at several locations in the Triangle, contributed to the Baker's Dozen Cookbook, and has aired food commentaries on NPR's Morning Edition and WUNC's State of Things.